Not much to say here. I hope you are not too disappointed with the koala. In the following weeks we'll watch Robert's struggle against this wild animal here. It won't take too long though. I'm afraid he's still not much of a fighter. It kind of worries me that we are still in the prologue, this will really be a long story…
If you are still in Halloween mood you can check out new drawing I've added in the gallery (you should follow the comic on Facebook if you want to see the additional stuff right away! Facebook fanpage). There's still a chance to be among very first 100 followers!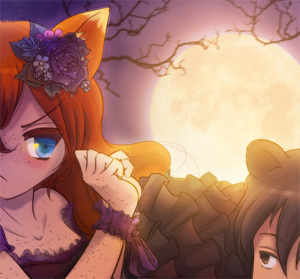 Some of my friends are complaining that I'm drawing furries and those ears and tails, blah blah… To tell you the truth I am not a huge fun of furry comics or anything related, I just thought that Ada would look cute with fox features. And I had to give everyone else animal ears and tails too in result but seriously, is it that much of a deal? Who cares, at least fox ears are easier to draw than human's.
Btw, new month has started! Time to vote! VOTE!